Main Content
Welcome to the RMA
The Organizing Body of Masonic Charity and Activities on Staten Island.
Who Are We?
The Richmond Masonic Association is the official sponsor of all joint district activity.
Our members are the Masters, Wardens, Past Masters of the Seven Masonic Lodges on Staten Island, as well as the current and past Grand Lodge Officers, under the direction of the District Deputy Grand master of the Richmond Masonic District.
Gifts and scholarships for many local and national charity organizations, groups, and individuals are suggested and voted upon by the members at our Annual Allocation Meeting. We use this time organize our Food and clothing drives which support the district needy and coordinate efforts such as the Richmond Masonic School of Instruction and the Masonic Blood Bank.
Additionally, we run the Districts' many annual events including the Charity Ball, Masonic Brotherhood Dinner, RMA Picnic, Holiday Party, and the Children's Holiday Party, all to raise funds for the charities it supports.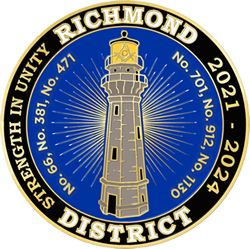 Brotherhood Fund
The Masonic Brotherhood Fund is the charitable arm of our Grand Lodge.  It receives donations from both masons and non-Masons to support the different programs in our state.
The Brotherhood Fund has been is existence for many years and we are charged with the support of many of the Community services that are run by hard working Brothers around the state. For over 50-plus years the Masonic Brotherhood Fund has supported the designated charities of the Grand Lodge of the State of New York.
To make a donation, follow this link and click donate in the top right corner.

December

2023

Sun
Mon
Tue
Wed
Thu
Fri
Sat

4

■

LaGuardia #1130 TABLE Lodge

•

6

■

Tompkins #471 Lodge Meeting DDGM VISIT

•

7

■

Huguenot #381 Lodge Meeting SCHOOL OF INSTRUCTION

•

8

■

GKL Entered Apprentice Degree

•

11

■

Beacon Light #701 meeting

•

14

■

Great Kills #912 Meeting 55 year Aprons Borello Brothers/ Longevity Aprons

•

18

■

LaGuardia Lodge #1130 Christmas Party

•

26

■

Staten Island Lodge #66 Collation & Meeting

•